Daniela Del Bene [1]
Keywords: social movements, alliances, development, solidarity.
Madhuresh Kumar, National Convener, National Alliance of People's Movements (NAPM).
Image 1. Madhuresh Kumar. Source: Flickr Joe Athialy.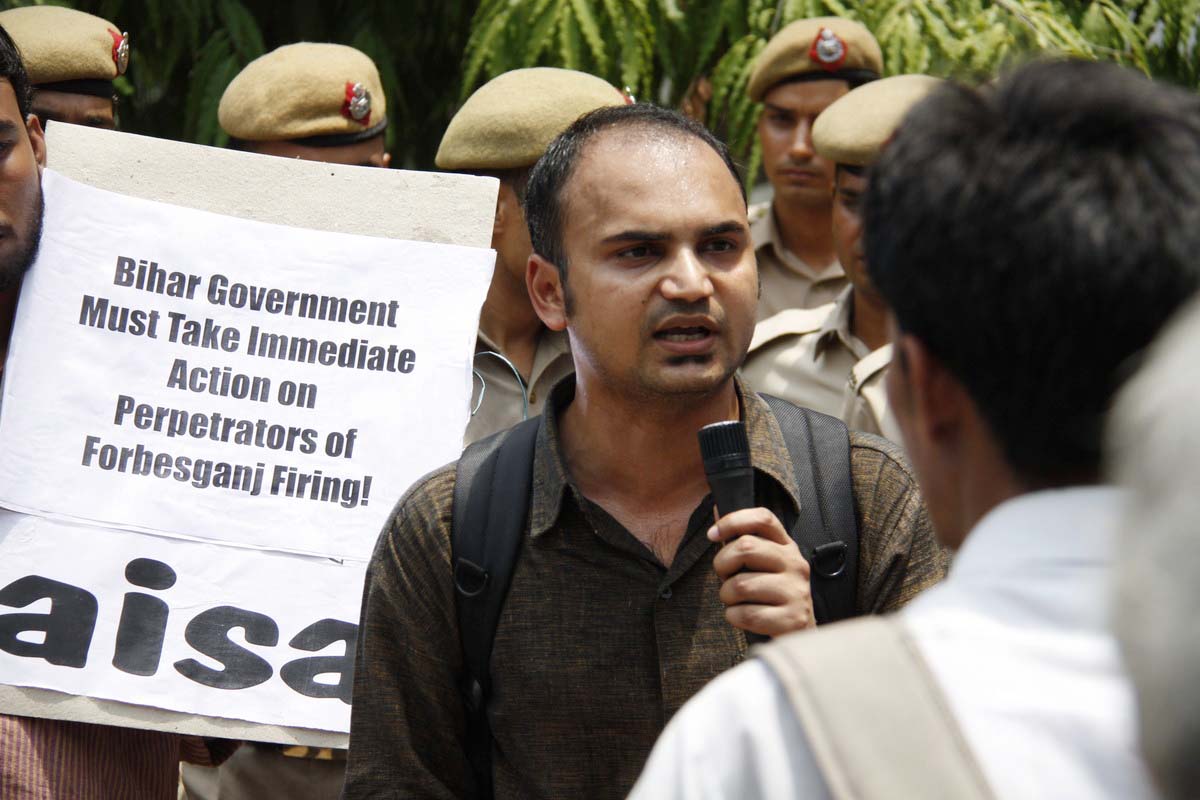 NAPM is a national coordination platform for Indian social movements. What issues do you work on, what type of activities and projects are you confronting today?
NAPM, founded in 1992, is a political process of coming together of diverse grassroots people's movements, community groups & collectives, campaigns, rights activists, academics and others. Each while retaining their autonomy and identity, have also been working collectively to bring the struggle for people-oriented, truly sustainable development and the core constitutional values and rights of equality and dignity of all human beings to the centre-stage of politics and public life.
The process of bringing together movements and supporting each other on issues, analyses, strategies, struggle, legal and policy action, has continued through nation-wide campaigns. Examples are the Desh Bachao, Desh Banao (Save the Nation – Build the Nation) campaign in 2003, the Sangharsh process in 2007, the Jan Sansad / People's Parliament 2010, the Lok Shakti Abhiyan (People's Power Campaign) 2012, amongst others. We are also part of various issue specific campaigns and networks like Right to Food Campaign, National Campaign for People's Right to Information, National Fish workers Forum, Pension Parishad, Coalition for Nuclear Disarmament and Peace, National Alliance of Anti-Nuclear Movements, Pak-India People's Forum for Peace and Democracy, Bhumi Adhikar Land Rights Movement, People's Health Movement, All India Farmers Struggle Co-ordination Committee, Alternatives Confluence, Women Farmers Rights Forum etc. 
We also work closely with pro-people political parties and processes like Samajwadi Jan Parishad, Socialist Party, People's Political Front and Lok Rajneeti Manch to establish people's sovereignty and right to development planning and self-governance, challenging corrupt, callous and criminal politics and establish clean and honest politics. We continue to fight the global imperialism, with domestic corporate loot and right-wing religious fundamentalism as the dual barriers impinging upon people's constitutional right to life and livelihood, with dignity.
What are the political challenges you see ahead for NAPM and other movements in India today?
The challenge is manifold in front of the Indian movements today, in light of the unprecedented attack of the corporate capital backed by the State and operating within a larger ideological vacuum.  First and foremost, there is a need to revisit our vision and raise ideological questions among ourselves of why struggle, what is sustainable development or the larger question of what kind of society do we want to build. Simply saying that we want a socialist society is not enough, since there are not many models to showcase. Erstwhile, socialist experiments have failed, emergence of new model in Latin American countries has been short-lived and the region has again been thrown in middle of chaos and back to the rule of oligarchies and right wing forces. In absence of a coherent logical idea and ideology, a 'post-ideological' society is now being discussed, but what would that be is not clear. In absence of that, the Indian movements and struggles have largely focused on the Indian constitutionalism, drawn reference for their demands or interpreted their own struggles around the principles enshrined within the constitution, hence confining their imagination and aspirations to this frame of references.
Similarly, constructing our policies primarily as oppositions to the current right-wing policies, not as full-fledged ideology, is doomed to fail to create a larger movement within the society. This is particularly preoccupying us now that there is a complete agreement and acceptance of the development narrative within the state, judiciary and political parties, media and middle classes, and hence, complete apathy towards the problem of displacement and loss of livelihoods and identity for instance. If we don't manage to inspire other values, expectations and to build up an alternative model, then we won't be able to trigger a wider support for a genuine social change.
Another issue that we are facing now is that today's movements are much spontaneous and narrow in ideological understanding and with a tunnel vision rather than having a long-term approach apart from fighting the immediate battles. There are reasons for these, but they also pose a challenge for us. Our difficulty to define a more holistic vision is somehow preventing movements' rapprochements and going beyond this "Not in My Backyard" tendency of struggles.
Apart from these more 'internal issues' let's say, two of the main political challenges we are facing today are linked to the State on the one hand, and to the nexus between the State and the Corporate, on the other hand. For instance, we are currently seeing the wilful violations of the laws by the State and a very serious lack of accountability by public actors. For the movements, it means that we can't rely on the progressive legislations that we have fought for in the previous decades. The struggle for implementation of the Forest Rights Act and the Panchayat Extension Scheduled Areas can only be fought locally. (Tramadol) This struggle is similar to the Right to Information, food security, access to health and education, because we do have the law but then there is no will power within the government to implement those, because these laws break the feudal relationship. It also means the state would give power to people and making itself weak, so it is not in their interest to implement these. This is visible in every other law, for example, the DK Basu guidelines for arrests or the Visakha guidelines for ensuring gender justice at workplace, the Minimum Wages Act and other laws; they all require a proactive strategy from the state.
Lastly, the State is much less responsive to people's struggles, bringing its own version of laws or imposing projects, in spite of all the resistances. Here we can see a shift in priorities, where the corporate capital is now backed and favoured by the State, to the cost of people and communities.
Besides the political challenges, India's civil society is also facing more structural challenges, that are not always contingent to the political situation or party in power. Could you reflect on those?
The first one concerns the dynamics among different stakeholders, be it movements amongst themselves or movements and NGOs for instance. The setup of organisations along castes lines, ideological affiliations or geographical origins remain factors of fragmentation. Positioning vis-à-vis the State or evolutions within the civil society sphere can also lead to tensions. For example, some organizations are experiencing the impact of NGOisation, with the rise of 'development / social' sector itself, closely linked with the professionalization of the social work schools and departments. One practical consequence is the lack of human resources for the movements, as we are getting far and fewer people now driven by ideological commitment to work with us. This is something which is also responsible for the changed character of the movements today, be it the leadership or the support system. Another difficulty coming from this process is that some NGOs have changed their governance approach or have become an extension of the government agencies. Then their interaction with the movements on the ground leads to dilution of their original agenda and then also to a blunting of the militancy of the movements.
Movements themselves can also face troubles working together and extending solidarities, often because of the tunnel vision I have mentioned earlier, but also because of the pressing and vital nature of their struggles. Peasant's movements for instance are fighting for their livelihoods and immediate needs, in a context where farming is currently a loss-making venture, for most of the populace. As a result, even attempts at trying to protect the environment or promote land rights movements through cross-sectoral platforms and campaigns are becoming difficult to organise, as the farmers' movement has its back against the wall and is really not in a position to devote time to all three issues.
The second challenge I can underline is actually linked to the lack of support structures and institutional building. A network of support organisations across the country is needed today and need to be very carefully constructed over time, to be able to provide support to the people on the ground. Yet what has emerged over the years is the slow disappearance and death of several support organisations beyond Delhi and certain state capitals. These support centres which would help movements earlier with their legal, research and documentation, advocacy, media outreach, bringing together professionals like academia and others to aid of movements and so on, has fast disappeared. This means that there is complete absence of strong support for the movements, which are today very different in the character from their counterparts in last quarter of 20th century. Any battle today will be fought only if people are willing to hold on to whatever little they have with them and if they receive larger backing. The footloose can't challenge the organised efforts of the state and corporations today. So, there is a need to hold on to the ground and whatever it takes to make that possible, has to be done, bringing together actors mobilising different skills or repertoires of actions. There is also a need for movements to cultivate and build alliances within the professional classes, whether be it lawyers, researchers or journalists.
Despite these challenges do you see positive evolutions in the light of new movements and alliances which have emerged, especially in last five years, since the unprecedented rise of the Bhartiya Janta Party across the country?
First of all, the diagnostic I have just explained is shared by a growing number of people: we are reflecting, debating, identifying our flaws or weaknesses and we are working on addressing them.
For example, the coordination and collaboration among movements is happening on a much larger scale today and is actually driven by the increased power and strength of the ruling dispensation. The struggle on one hand for implementation of laws is there, but then the new collaborations are emerging with the following strategies too:
"Issue-specific" coalitions, be it around land, farmers issue, displacement, forests etc.
The mobilisation and coming together to fight the rising hindutva trend in life and public spaces.
The desire to make an effective intervention in the forthcoming general elections.
The need to make an effective change in discourse and build an alternative narrative around the constitutional values.
The most important development in addition, we feel are happening with the rise of some of the organisations belonging to the new Dalit movements led by Jignesh Mevani, Chandrashekhar Ravan, Ginni Mahi or the new wave of student movements across campuses. They are not only mobilising younger generations and strategically using social medias, but are also challenging more traditional boundaries between movements, engaging both on identity issues and political assertion, but also on social justice issues and using cultural idioms and refreshingly speaking a new language.
These are having a serious impact in terms of autonomous movements and party mass organisations, coming together on many different platforms and learning to work together. We are witnessing something like World Social Forum 2004 in Mumbai when a number of groups came together, but this time it has gone beyond that and it is happening not only at national level but there is a genuine desire to weave that coalition at regional and provincial levels too.
Another good development we can observe is that people are generally much more aware of their rights and the laws, as compared to earlier times. So even if the authorities are hardly responsive, people are still fighting and movements are finding ways to increase their own power. We are making these efforts to strengthen our struggles and by creating conditions where struggles of the poor and for their rights are not vilified by the corporate media, because that shapes opinion about the struggles and issues in larger public and that in turn impacts the state and judiciary both.
Finally, as national level organization and platform, we are trying to reinforce our structure and our ties, so that we can act as catalysts to help in building collaborations among actors, facilitating exchanges and contributing to overcoming factors of fragmentations. In short, we are living in interesting times, where we are revisiting our strategies and structures, something that will have a much longer impact in times to come.
—
[1] Instituto de Ciencia y Tecnología Ambiental, Universitat Autònoma de Barcelona.